Frogs n Flies
Show
Frogs 'n Flies Exhibit Simple Joys Of Gaming On Mobile Gambling Sites
Great wins abound at Frogs' n Flies, a massive production of Pound Slots one of the best mobile gambling sites. The game with more than 1000 ways to win the game is sure to keep its players entertained for long hours. Just login and create an account for free and enjoy with our Welcome bonuses right away.
Fabulous animations, colourful display, and underwater theme together make the game one of the most eye-catching designs of the famous software programmers, Lightning Box.

General Introduction of Frogs 'n Flies Slot at Mobile Gambling Sites - Login Now!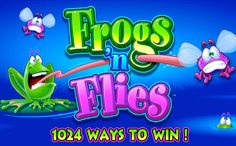 The slot consists of 5 reels and offers 1024 ways to win it. Now, that is a game, not just expert, but also amateurs should try their hands on. The giant Frog symbol is obviously the Wild one. Players meet various opportunities to trigger free spins. Truly, this one is all about raining Free Spins and one can start by winning as many as 20 of these. More the number of free spins, higher can be the chances of winning large sums of money.
Dive Into A World Of Mobile Gambling Sites With This One & Explore Various Opportunities To Win Big

Cute cartoon caricatures keep you entertained all throughout the game as they appear at different phases in the game. The stunning visuals of the game are backed by a beautiful backdrop of an ocean. The Wild Frog symbol can only hop onto reels 2 and 4 whereas; the Scatter appears on 3, 4 and 5. This scatter symbol is represented by a square symbol that contains the game's logo.
The entire ambience of the game comes alive with certain animations added to the lilies that open, bubbles that roll up from the bottom and also some turtles that come out tap dancing to celebrate a win. In fact, a lot of celebration is displayed by these caricatures at the event of a winning combination. Enjoy the ambience of the game while grabbing the opportunities to win big!
Gaming Musts Of This Pay By Mobile Gambling Sites Include

The game designed by Lightning Box is considerably simple especially in comparison to its contemporaries. But this does not take away the fun and excitement level from the game at any stage. One can get great wins from each spin that ranges between 40p and £20.
Unlike other traditional paylines, Frogs 'n Flies operate via a string of the same symbol on successive reels. It thus becomes capable of providing as many as 1000 and more ways to win. Depending upon the number of Scatters you may hit you can trigger the fabulous bonus feature and retrieve as many as 5, 10 or even 20 free spins.
Brucie Bonus feature that may appear on the middle 3 reels during a game comes in addition to the main frog wild.
Pound Slots is licensed and regulated by UK Gambling Commission and thus is one of the most trustworthy of them all. Players can thus be very confident about the money they are investing and be assured of the timely dispersal of their payouts whenever they earn some winnings. Instead of focusing only on the Jackpot it is advisable that players keep small winnings under consideration and end up winning more money than they initially anticipated.
Mobile Gambling Sites - Keep What You Win With Pound Slots