Big Kahuna – Snakes & Ladders
Show
Pay By Phone Casino Site - Get Acquainted To Your Inner Child With Big Kahuna – Snakes & Ladders At Pound Slots
We're all aware of the friendly board game of Snakes & Ladders. It brings about a nostalgic feeling of our childhood and our acquaintance with dices and luck. So, enjoy a game of luck (the popular game of Big Kahuna) disguised in the familiar format of Snakes & Ladders at our pay by phone casino, Pound Slots. So join us and enjoy!
Why Play Big Kahuna - Snakes & Ladders Our Pay By Phone Casino - Play Now!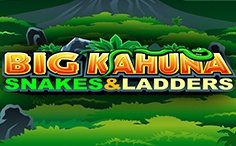 You're entitled to know a fair share of speculation and if your sources belong to our customer base, we're sure you've heard positive reviews. At Pound Slots, we value each of our customers and do not bother about how much deposit money you bestow upon us.
We believe that with a technically flawless gaming collection provided by Microgaming and theft proof money transaction methods, our customers are bound to revisit our virtual casino.
Big Kahuna – Snakes & Ladders is teamed with 5 free spins so that you can test your fate at this game at least five times without losing a dime. Moreover, each free spin is coupled with double a number of winnings.
Snakes & Ladders is another bonus game added to Big Kahuna. This game can be activated during the free spins.

Why Avail The Pay By Phone Casino Billing Option At Pound Slots?

You've probably heard the phrase "mobile phone casino no deposit bonus" if you've ever placed bets in an online casino. The mobile casino deposit with phone bill offers you to pay your deposit money without revealing vital information over the Internet.
Hence, you can carry out transactions without disregarding your financial security. Being a pay by phone casino, we know that online casino deposit with phone bill is one of the safest ways to deposit money.
All you've got to do is wait for the phone bill to arrive and then, you can easily increase your deposited cash amount.
Pay by phone casino is one of the most sought after casinos because of the pay by phone option's presence. It's an efficient way of paying money without compromising one's bank information online. With hackers lurking everywhere, we're all aware that the Internet can get transparent at times!
At Pound Slots, we look to create a customer-casino relationship that's more personal than professional. We know how important an authentic gaming portal is to you and intend to support your idea of a splendid gambling experience. Microgaming provides the tech and we're all about convenience; together Pound Slots is heaven for every gambler. Visit us and never look back with great pay by phone casino billing!
Pay By Phone Casino - Keep What You Win With Pound Slots