Fruit Blast
Show

This new and entertaining game offers something different. It is a break from the regular reels styled games. Fruit Blast is more of an arcade-style game with lots of opportunities to win!
This fast-paced game needs some skills to be able to win. It is truly a skills-based game for real money play. You can literally blast your way to big earnings!
The game is in the form of a 5x5 grid. Players simply have to find three or more matching tiles in adjacent positions. Fruit Blast will remind the players of games like Candy Crush and Bejeweled. But here you can make profits!
Amazing theme and many Fruit blast slot bonus

The game is set in a tropical smoothie bar on a beach. The game screen is set up to reveal a bar environment. The background has a view of the harbour. The foreground is the grid with the fruit symbols. Cool bartenders are present to 'serve' you!
The symbols are all of the fruits. They include cherries, lemon, grapes, watermelon and pineapple. The game tests your skills when you choose which group to blast first. This can affect how new clusters are formed.
The Fruit blast slot bonus lets you collect stars as you complete achievements. Your actions affect progress. There are 8 different bonus features. These can be unlocked with more achievements and stars.
Many opportunities to win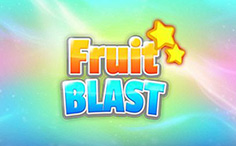 Apart from its bonus features, Fruit Blast gives many chances to win. You may even be able to multiply winnings if you are lucky.
An interesting feature is the blast clusters in Fruit blast slot bonus game. Blast 3 or more matching symbols to fill fruit bars. Each full bar gives a multiplier to the bet value. This can be up to 10 times of the bet!
As you complete more achievements, you can level up. This comes with its perks. Once you level up, new bartenders are unlocked, who can make you winning cocktails. Bonus games change with each bartender. So it is important to choose them wisely. They can really affect your game!
The ultimate fruit blast slot bonus

The bonus symbol can prove to be a game changer in Fruit blast slot bonus game. It can give you huge rewards. Group three or more together and win a random cash award.
The jackpot symbol is even better. Group three or more of these and you can win up to 1000 times your bet!
Brush up your skills, and get ready to win big in this entertaining game!