Finn and the Swirly Spin
Show
While the classic five reel slot setup does have its charms, things can occasionally get bland. Thankfully though, Finn and The Swirly Spin's take on the tried and tested formula slaps on needed extra creativity and excitement. For starters, as the name makes clear it features a swirling pattern on the reels. This swirl is integral to the proper game functioning and paves the way for the fabulous free spins feature.

It's All About The Swirl in this SMS slots online
Finn and the Swirly Spin is an enchanting slot with an Irish theme and cartoonish effects from SMS Slots Online. The top character is, of course, called Finn and he's featured busily playing traditional Irish tunes on a locale that's highly reminiscent of the rolling green hills of Ireland. This Pound Slot is as well playable on both smartphones and tablets and is easily suitable for both high and low rollers.
The traditional reels and paylines are absent here. Instead, the action takes place on a vertical/horizontal 5x5 grid. Players win when they manage to gather three in a row of similar symbols anywhere on the screen. The payouts include such items as wooden hearts, stone spades, clovers, horseshoes, acorns and rubies. The last delivers by far the biggest payout, and should you get five of them in a row 500 coins are yours, multiplied by the current betting level you are on.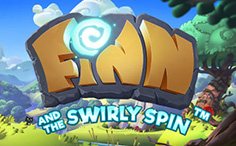 When players manage a win on this Pound Slot, the winning icons vanish, while the rest of the icons kind of swirl to the screen's centre. As well, with each win, a star is born. This icon acts as the wild and can help form winning combos.
Also, at the beginning of each spin, a key that's frozen in ice can be usually sighted at the bottom left of the screen. It bears watching as should it reach the keyhole that's positioned in the screen centre, Finn will be propelled towards the free spins territory. And once in the free spins round, a selection of features are made available. However, at first, only one of such feature can be used. The rest are unlocked the more the free spins round is triggered during play. And once a feature has been unlocked it stays that way and can be used as often as needed.
Time To Get Finned!

If you are a fan of Irish-themed slot or just like the idea of playing around with a slot that's both unusual and exciting, then Finn and the Swirly Spin has your name on it! The gameplay certainly is stunning, the payouts are more than decent and overall it offers high-level entertainment while catering to the widest possible set of users.