Blood Queen
Show

No one has seen vampires for real, but the fictional vampires are breathtakingly good looking. Be it movies or novels, vampires like the ones in Blood Queen casino slots bonus game will impress you with every aspect while making sure you get a real shot at winning real money. Pound slots has set the stage for you just so perfectly well to drench yourself in the Blood Queen.

The Casino Slots Bonus For Vampire Theme Addicts
This Iron Dog creation has been doing the rounds with more and more players trying the vampire theme based game on Pound Slots. From the graphics to the music and from the symbols to the payouts, everything is bound to impress players.
Be Prepared To Be Impressed By The Casino Slots Bonus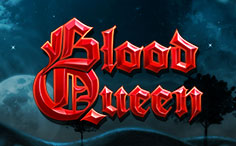 The backdrop of the game represents a cold moonlit night and that is completely complemented with the music. It is not scary or haunting but hints at the suspense-filled bloodthirsty pursuits. The symbols used include the great looking vampires, red sapphire gems, a scary skull, tusks and a kissing vampire couple. It is impressive how the music varies to match the result of each spin.
Win Big On The Bloody Night
The 5 reel 30 paylines Casino Slots Bonus game starts with the mention of the fact that you might be lucky enough to win up to 50 free spins. You get the option to select one theme from amongst two, which leads you on to win in different ways. Start the wagers with coins worth 30p to £90 for every spin. If the vampires are not in form, they might happily give away 20,000 cons for hitting the jackpot.
The wild symbol is the gargoyle and it turns the entire reel into a wide open jaw with a lion on top of it. The scatter symbol is a heart with Blood Queen and Van Hell inside it. If 3 or more of these appear then you can earn a maximum of 50 spins. As there are two options to choose from, the Blood Queen gives Blood Potion Wilds in the middle reels (during free spins). The Van Hell option gives Holy Water Wilds, that spread vertically to horizontal in this casino slots bonus game.
Summing up
While vampires do suck blood, the developer is making sure players get a hint of romantic theme with the otherwise dreaded vampire one. There are more games in this category, but Blood Queen definitely a step ahead of them all. The Queen is in a mood to reward people with money that's probably the best thing you must be aiming for now.Give a shot to the slot at Pound Slots right away!